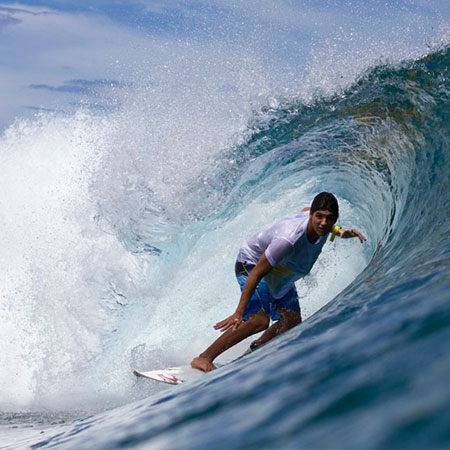 "I train[ed] with Blakey in Fiji. It [was] always so fun. All the training copy[ies] the demands [of] surfing. I always beat him at the end with my Jiu jitsu"

WCT World Surfing Champion 2014 Gabriel Medina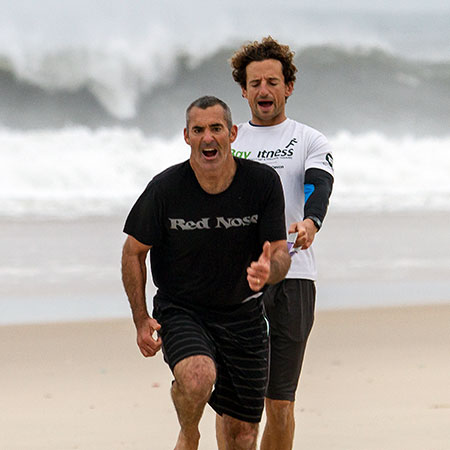 "Blakey and Bex make the perfect team. It's the whole package for an athlete. Training, yoga, therapy, rehab, massage, sport psychology and meditation."

Garret Mcnamara, Hawaii 2015
"I was worried I wasn't fit enough to join a group boot camp class but Blakey is so enthusiastic and always offers easier options for beginners"
Lorna Giles on Bootcamp - Sep 2011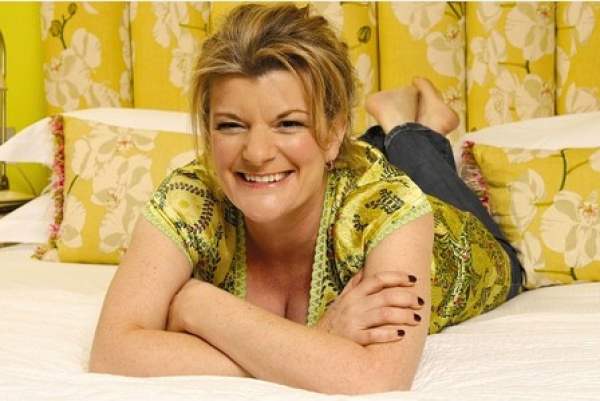 "Blakey is the shizz. He has changed my life. Well, my body."
Veronica Henry - Author - On BayFitness - Feb 2014
"Brilliant weekend reboot with BayFitness lovely room, great nutritionally dense meals and bespoke workouts. Relaxed atmosphere throughout. Thoroughly recommend it"
Carol Davies - On Reboot Weekend - 2012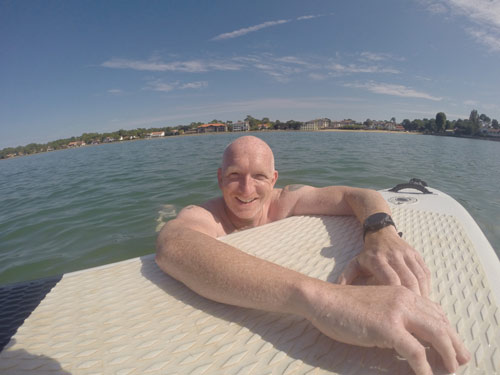 "Another year passed, this was my second time. Fears that last years experience was a one off were unfounded. Blakey and Bex do a superb job, they set a relaxed, fun and chilled out atmosphere. I had the best time, again!
If you're looking for a retreat that involves lots of laughs, good people, life affirming chats combined with great food, yoga, cycling, surfing, hiking, table tennis, pétanque, boot camp exercises --- then this is for you. All in a great atmosphere - do as much or as little as you want. The aim is to come out of the week feeling better all round.
I cannot recommend this week enough ... My only fear is it'll become so popular they may sell out of places.
Do it! "
Hamish, Visited September 2015, 16 and is joining us for 2017 too!
"Fantastic week with a lovely bunch of people! Yoga, surfing, beach bootcamp, garden bootcamp, massages, sparkly tattoos, pool dips, kayak trip, beach walks, nutrient dense food and awesome company. Feeling well and truly re-booted!
Also did my first headstand EVER!
Thanks for a brilliant time, highly recommend to all!" Kate, September 2015
"Just had an amazing week at the Reboot France retreat...fantastic hosts, superb cuisine, stunning location, great activities and wonderful people. If you want to step off the roundabout for a bit and you like exercise, food, the odd glass of wine and inspiring humans then you will LOVE this holiday, thoroughly recommended."
Emma R
"I wouldn't be where I am without Blakey. His varied sessions and consistent setting of new goals and testing have helped me remain motivated and make fitness fun and not a chore."

Andrew Cotton - International Big Wave Surfer
"Andy Blake has been an inspiration to the Gisborne Boys High School Students under his guidance over the past two years"
The Gisborne Herald - New Zealand - April 2010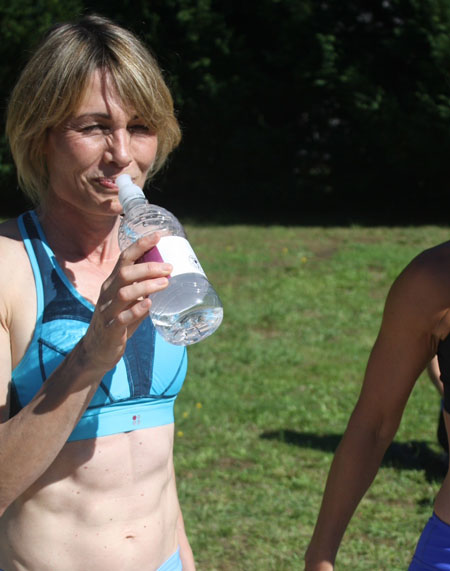 "I am completely hooked on your Bootcamp sessions. Can't believe how the hour flies by and how much fitter and stronger I am already after a couple of months. Thanks Blakey, you're a total star!"
"I've been going to gyms for years but this is the best fitness class I've ever been to and the most fun."
Andy Wall on BayFitness - Dec 2011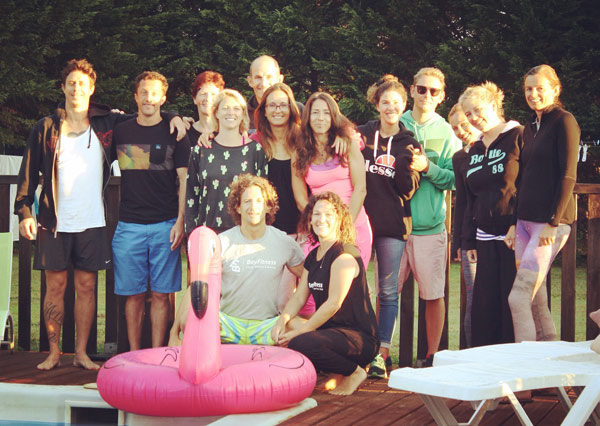 "I recently went on Blakey's Reboot Retreat in Hossegor, France and had an absolutely amazing time. The beautiful house with large grounds and pool really let you escape from your normal life and forget about work.
The yoga, fitness, wonderful food, great surf, beautiful scenery and fun packed schedule really gave me a boost and positive outlook for the future.
The reboot team of Blakey, Bex, Phil and Lyn really made everyone feel welcome and taylored to every individuals fitness/dietry needs. The other guests were also a very friendly bunch which had me laughing all week long.
I will definitely be going back next year (mainly for the food and the petanque!)"
Simon Adams, Visited September 2016
"I have recently returned from a reboot France week and it was amazing. Very well organised with a range of exciting activities enabling a fun filled week. Great food and very well looked after. The yoga was inspiring and the massage a real treat. Would definitely recommend this trip and the wonderful hosts, a great team."

"The only thing thats keeping me sane on this little island is Bay Fitness yoga, boxing, and tabata intervals"

Alana Blanchard - Pro Surfer / RipCurl model - On BayFitness Yoga - April 2012
"Boot camp leaves me feeling like superwomen!"
S.Cockcroft on Bootcamp - Aug 2011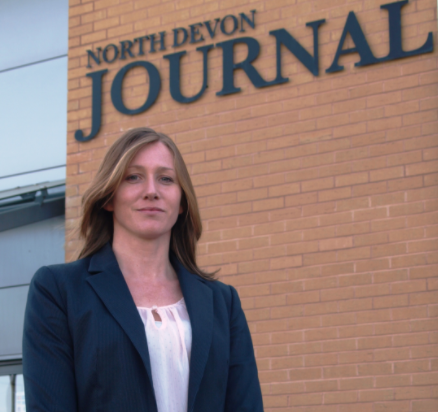 "The most eclectic, challenging, enjoyable fitness group in North Devon - if not the world"
Chloe Hubbard - North Devon Journal - Nov 2011
"Completely refreshed after a fantastic couple of days with Bay Fitness on the Reboot Weekend! Thanks to Andy and his team for top notch training , advice, great food and bags of fun – your fantastic attitude to health and fitness is infectious!"
Karen Doyle - Customer - On Reboot Weekends
"I've been to dozens and classes but working out with Bay Fitness is by far my favourite, nothing has even been this effective or fun, yes you heard me right i said "FUN!" If the many benefits of laughter are true then look no further as you've hit the jackpot with Bay Fitness. Andrew Blake is a character amongst characters to say the least. It's not just fun though beach bootcamp is hard work. I found it hard the first time I went but you get to work at your own pace with tons of encouragement, there's no pressure"

Western Morning News - July 2014
"I have regularly gone to Blakey's bootcamp sessions, had PT sessions, been treated by Bex and also been on the 2015 France retreat and can honestly say I'm ever disappointed, far from it, they give you their all every time. Blakey and Bex are a fantastic duo. Blakey's approach to fitness is fun and unique but very effective, you get a work out just from laughing! Bex is magical when it comes to healing tired bodies, wouldn't go anywhere else now. The retreat was brilliant, so much fun and great motivation. Highly recommend on all counts."
Hannah Clark
I've just returned from the Reboot France retreat, hosted by Andrew & Becky from Bay Fitness. What a fantastic experience!

Andrew & Bex were the perfect hosts, warm & welcoming. There was a perfect balance of activities, including daily yoga, training sessions, cycling trips, surf trips....and there was always down time to relax when we needed it...chilling by the pool with a book, heading to the beach for the afternoon, hanging out with the group.

I had brilliant week with friends old & new...we laughed a lot & I left feeling relaxed, healthy & happy. And i'm already planning to book in for next year!